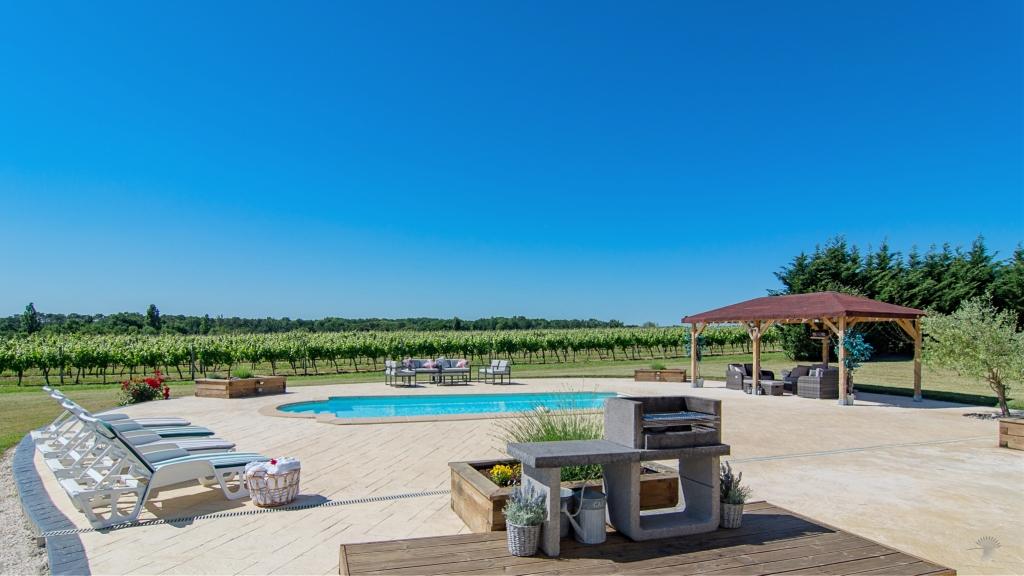 Here are some commonly asked questions and answers:
Do you have WIFI ?
Yes and we have two range extenders to beam it over the patio.  The broadband speed is very good.  You can stream on Netflix or Amazon Prime on the 50 inch smart TV.    There is an Alexa in the kitchen. 
Is there a local Taxi ?
Yes, Mark Pope in Duras on 06 49 49 92 13 or from a UK mobile  0033 6 49 49 92 13
Where is the nearest train station ?
Sainte Foy Le Grand, which has trains to Bordeaux
We are arriving on Sunday evening, is there food left out or a local restaurant ?
We leave out some bread,  spaghetti and bolognaise sauce for you to cook an evening meal. 
Duras is just 10 mins down the road where you can grab a meal if needed. 
Can I buy wine from the local vineyard ?
Yes and you also get a 10% discount by using the discount tickets provided or just say you are staying at Bonte.  It's a 10 min walk either directly through the vines or go down the end of the road, turn right then right again following the signs for "Domain Du Grand Mayne" https://domaine-du-grand-mayne.com
Do you have a washing machine ?
Yes, we have two.  We also have a large sandwich grill and a smoothie maker.  
Do you have a BBQ ?
Yes, a large charcoal style BBQ.  Please do leave it clean and the silver racks clean as our cleaning team do not do the BBQ.  
Do you take dogs ?
No, sorry we don't. 
Is the tap water ok to drink
Yes, it is fine, no need to buy bottled water. 
Can we arrive earlier than 3pm on joining day ?
Not really, sorry but we only have a few short hours to scrub the place from top to bottom before you arrive.  If you think you will arrive early, why not take the opportunity to get the food shopping in, or visit Duras for a coffee. 
Are their websites where we can see local events, festivals and activities ?
Yes, lots. 
http://www.lostinbordeaux.com/
https://www.northofthedordogne.com/
https://www.pays-bergerac-tourisme.com/en/
Can you recommend any bespoke services?
Yes, we have links to people who provide local services such as a Daily maid, Pilates, Yoga, Professional Chef  etc.  
Is there a floor plan of Bonte so we can see the layout ?